New USMC Sniper Preview, and we're taking pre-orders now!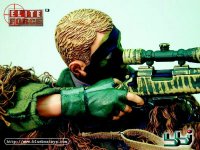 We've added a preview of the USMC Sniper figure from BBi today, and we're also taking pre-orders now for the figure, as it's due to ship late April. So $43 delivered insures you get one first! Click the image above to check out the preview.
Great news from Sideshow!
Here's some news I picked up off another board, which comes from a designer at Sideshow Toy...


In an effort to maintain the true collectible nature of Sideshows products a few changes have been made. Most significantly is the fact that our products will no longer be available on the MASS Market and will all be produced in limited runs. How limited you ask, well the majority of the runs will be between 5,000-7,500 pcs. This means that
you wont see our products languishing on the shelves of your local retailer for long. When the run has sold through they will be gone. No bogus 2nd edition runs, no magic inventory that is found in a Hong Kong warehouse a year later, GONE!

Now not only does the collectable facet of our products reach their true value but this system will allow us the freedom to do characters and topics that MASS Market designing would never allow. The Characters that you the collectors have been asking us for. For Instance We will now be producing additional 12" figures from the Universal Monsters universe. Fist up will be Dwight Frye as Fritz from FRANKENSTEIN, Lon Chaney Jr as pre-Wolfman Larry Talbot from THE WOLFMAN, and Bela Lugosi as Murder Legendre from WHITE ZOMBIE. This is just the beginning as any Universal Horror fan well knows.


For the fans of our upcomming BROTHERHOOD of ARMS, BAYONETS and BARBWIRE, and SIX GUN LEGENDS series, they too will be limited to 5,000 figures a piece. So you will have to move quickly if you have your sights set on building a full strength company of Civil War Soldiers.

We are excited about these changes and the new opportunities they present. Now we can bring you new and more unusual products faster and with more frequency as well as offer topics and charactors that were previously not viable. What you can do to help insure that you get the
products you want is tell your local retailer, specialty/hobby shop, and collectable venue that you want these products. Shops across the country are pre-ordering products right now and things will sell through. We will have a limited number of each product available through our web site but the majority will be sold to the collectable
and domestic trade for sale to you. Pass the word and don't be left out, nothing sucks more than not getting something you want.

Thanx,
Tom Gilliland
Senior Product Designer
Sideshow Toy


Awesome "Enemy at the Gates" customs!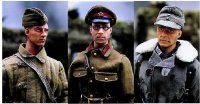 Click the image above to check out some absolutely outstanding custom figures done by Francis Tavares.
Too bad those aren't for sale!
Matilda spotted at Toys R Us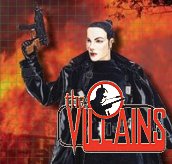 A few new 21st Century 1/6th scale figures are showing up at Toys R Us now, one of which is Matilda. She looks like a nice figure, and I've never been a big fan of 21st Century figures, but there's something different about this one. Maybe it's that this one actually doesn't look like someone pinched the head as it sits in the box.:)
Modern US Ranger "Larry" is out!
Just when you thought it was safe to put your wallet away, Dragon goes and releases yet another awesome looking modern figure! The modern US Ranger "Larry" is out, and he's first in a new series of Ranger figures from Dragon. Keep an eye on the site for a review of "Larry", "Mitch" (F-117 pilot) and "Mike" (Green Beret) soon.
2001 Tokyo Toy Show pics at Dragon now too!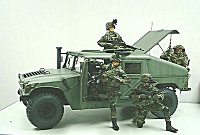 In addition to our own outstanding Tokyo Toy Show coverage you might want to check out Dragon's site. Click the image above to check out their own 2001 Tokyo Toy Show page. There you'll find some outstanding shots of all their new stuff, including some 12-inch Resident Evil figures.
GeeTO Tiger two car set from CMW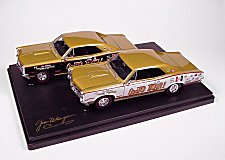 In May Classic Metal Works will offer the outstanding Pontiac GTO GeeTO Tiger 2-car set showcased above in very limited quantities. We've been told the suggested retail price of the set will be $89.99. Having said that, if anyone is interested in a set we'll be taking pre-orders at the price of $89.99 delivered, which is essentially selling them at retail price, with free shipping. Also you'll be the first to get them when they are released that way.
Four new Kalifornia Kicks this fall!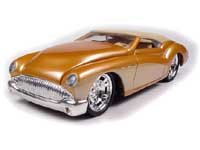 Pictured above is the Buikool, which will debut this coming fall with the Swoop Coup, Haulucination and last but not least the Beach Reacher. Those will be the four all new Thom Taylor designed Kalifornia Kicks series from Classic Metal Works in 1/24 scale.

21st Century does a NAM Memorial of their own!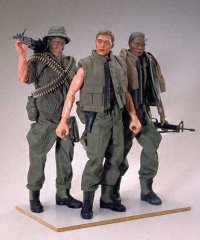 Hot on the heels of Hasbro's GI Joe Vietnam Wall Memorial set comes 21st Century's NAM Memorial set. This new set from 21st isn't another wall set, instead the one they'll be releasing is based on another Vietnam Memorial in DC. This will be an outstanding three figure set, and although we haven't been able to dig up a release date yet, we have a notion it's slatted for a Summer release. The set will retail for around $80-$100 (depending on where you shop).


Does anyone want Intoyz weapon sets?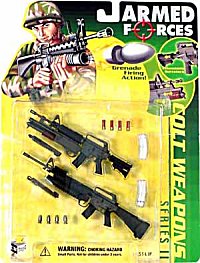 We're seriously considering carrying the Intoyz weapons sets. Due out before the month is out is the Colt Weapons Series II set, and if we get enough interest in them from customers we'll order a case. These retail for about $10-$12 a set, and the quality if by far the best in the industry, as the Intoyz sets feature more moving parts and more detail than anything else that the competition can offer. This new Colt Weapons Series II set even features a firing grenade, and it's not some cheap oversized plastic missile like the mid-90s GI Joe weapons, as the grenade is in scale!

For an in-depth look at a few of these sets just take a look at our "Latest Reviews" page for an in-depth look at the Colt Weapons Series I set and the Gatling Gun from Intoyz.

Having said that if anyone is interested we may take pre-orders at $14.00 delivered for the sets. What do you think? Email us and let us know.
Figures.com reviews BBi's F/A-18 "Cougar" pilot figure!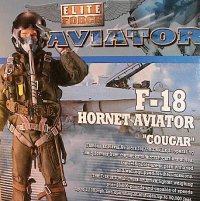 Click the image above to check out the nice review that Figures.com posted today of the BBi F/A-18 "Cougar" Elite Force: Aviator action figure. When you're done remember that you can order that same figure right here for only $43 delivered, which is essentially the retail cost of $40 and only $3 for shipping and handling!
Pearl Harbor Collection (with Gung-Ho-Grip) figures are out!
We just posted our own in-depth review of the new "Pearl Harbor Collection: Hickam Field Army Defender" action figure from GI Joe. This figure, like the "Mortar Attack" figures feature the new Gung-Ho-Grip as well. So click the image above to check out our detailed review, and many images of this great new Joe!
Even nicer images of the new figures!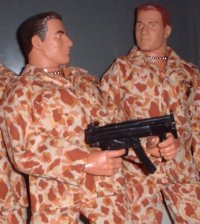 Click the image above to check out a very nice hi-res image of three of the new Gung Ho Grip figures up close.

Thanks to Jeremy Garcia for the images, he's one excellent Backyard Patrol member!
21st Century's Vietnam Xtreme Detail line!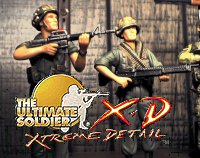 There's no question, 21st Century's WWII XD (Xtreme Detail) series of 1/18 scale figures were pretty disappointing. That's actually putting it midly. They're at it again, only this time out Vietnam gets the XD treatment and surprisingly they're not that bad. Click the image above to read out review of the new XD NAM-era US Navy SEAL 1/18 scale action figure.
The Cotswold Resin-heads are shipping!
If you're looking for some outstanding new figures to add to your collection, be sure to check out the latest Cotswold Resin-head figures from our good friends at Vintagecollectibles.org. Click the image above to get a superb deal on these new Cotswold figures.
Gearbox/Cotswold Figures preview!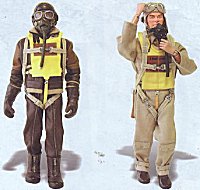 Above is a sneak peek of the all new Gearbox/Cotswold figures, which are from the first line of all new figures to come from the Gearbox/Cotswold alliance. Click the picture above to head on over to Livio's outstanding website for the scoop on these fantastic new figures.


Pre-Orders for R-Rated Sgt. R. Lee Emery at Sideshowtoy.com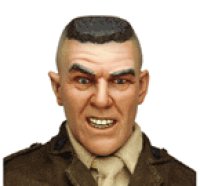 Sideshowtoy.com is now taking pre-orders for the R-Rated version of their highly anticipated Sgt. R. Lee Emery action figure. Click the image above to head on over to Sideshowtoy.com's page for the figure, which also includes more detailed photos of the figure.
More Dragon Rangers, and even a NAM-era pilot coming our way!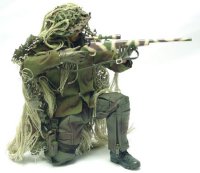 BBi isn't the only company releasing a sniper figure, as Dragon plans to release the sniper above in their all new "Rangers Lead the Way" series. We reported last week that "Larry" is the fist figure in the series, and it is rumored that the second figure will be a Ranger machine gunner, who is outfitted with the M240b (the first machine gun in decades to replace the aging M60).

To top things off, Dragon is also planning to release a Vietnam era fighter pilot! One thing is for certain, 2001 is looking like an excellent year for 1/6th scale military collectibles.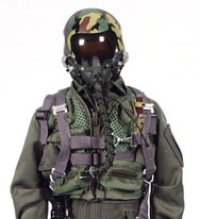 FAO Green Beret and Marine Jungle Fighter for half-price!
FAO Schwarz is moving out the outstanding Green Beret and Marine Jungle Fighter shadow-box sets for almost half price now!

The Green Beret is marked down to only $70 and the Marine Jungle Fighter (currently only the AA version is left in stock) is just $60 now. So you had better go get them fast, because chances are they won't last long. Also if anyone thinks about it, then can pick me up one too.;)
2001 GI Joe convention exclusives unveiled!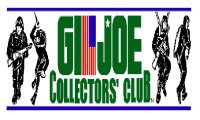 Reports indicate that the theme for the 2001 GI Joe Convention will be "Gi Joe: Leading the Charge". This year's convention takes place at the Crown Center Hyatt Regency, Kansas City, MO, on June 21st-24th.

"Operation Pegasus Bridge" will be this year's convention exclusive set, and features two figures based on the first battle of DDay. This con-exclusive set will include an "Oxf. & Bucks" Air Landing Brigade Bren Gunner, and a German Sentry figure.

Here's the best part! The German figure comes equipped with: helmet, boots, shirt, leather belt with ammo pouches, Kar 98, Leuchtpistole flare pistol with holster and shells, leggings, bayonet & sheath, flashlight, hat and four grenades.

The British figure comes equipped with: helmet, shirt, pants, Dennison smock, Bren gun with stand and five clips, Piat (anti-tank weapon) with two rounds, webgear with two ammo pouches, haversack, gas mask case, canteen, entrenching tool and cover, two smoke grenades, two fragmentation grenades, leggings, toggle rope, and camouflage scarf. And for the first time in convention history, both bodies will be vintage reproductions. The German figure will have the vintage style foreign head from the 1960s with blonde hair and blue eyes. The British figure will have the standard G.I. Joe head from the 1960s with red hair and blue eyes. This is a fabulous set that
no G.I. Joe or WWII collector should be without.

Man I might have to get me one of those!


Sgt. Rock set unleashed!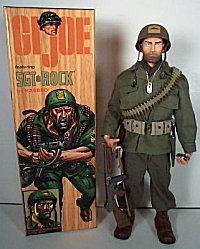 Click on the image above to check out a nice review of the ultra-expensive Sgt. Rock set (with pictures of it out of the packaging to boot). I REALLY want one of those sets, but at that price I'll be waiting until Hasbro realizes that the overall majority of Joe Collectors will not, and cannot, afford to pay $250+ for that set, no matter how nice it looks. Thanks goes out to Livio of Vintagecollectibles.org for that heads-up.;)